Whenever it comes to fine jewelry, one of the purest forms of self-expression for centuries has been the charm bracelet. It is a jewelry piece that is built to express our inspiration, thought, and personality. Custom charm bracelets hold the perfect way to define your choices and the preferences- so it needs to be designed perfectly.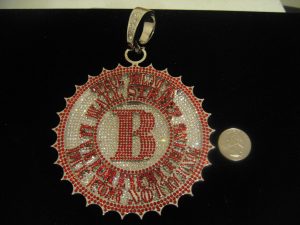 But, creating a custom charm bracelet is not as easy- it needs specific design and quality. Therefore it is important to understand the creation charm bracelet, like how to determine the right way to customize your charm bracelet that can fit your personality? What are the steps involved? And to know all the basic things to get the best custom charm bracelets, continue reading the article-
1. Select The Theme:
Before creating your charm bracelet, determine a theme in your mind. The theme can be anything you want. It can exhibit your passion for your dreams, your family, or can be a story of your life. There are charms for anything and everything you desire, it is limitless as the sky.
2. Choose Your Custom Bracelet Chain:
The next and very important step is to select your chain. Picking up the chain is the base of your charm bracelet, as it will describe your overall theme. You have several options available in materials. It could be any material like- gold, silver, metal and many more.
Your bracelet describes your personality and your aura, so be selective while making a choice.
Tip:
●If you are the kind of person who spends a good part of his life in typing on a keyboard, then, you can go with a charm bracelet chain- it should be thin and not overwhelmed with additional extra designing.
● If you are a person who has a busy schedule and who roam a lot for meetings in different places, then make yourself loaded with a big chunky chain carrying lots of charms attached. It will give you a different kind of attraction, but make sure you do not overwhelm it with the extra designing as in a professional world, it could look messy.
3. Choosing The Charms:
The very next step in building a custom charm bracelet is choosing the charms. This is also the fun part of the entire process.
When it comes to select the brand new charms, find the piece that can reflect your passion and personality.
Tip:
● For a travel lover, a terrific compass charm could be a great choice.
● If you want a charm whose secret meanings can give you daily inspiration, then picking pieces that symbolize ideas like empowerment, or happiness could be a perfect choice.
Take your time in finding the right charm for yourself so that at the end of the day, it could look even more beautiful than you have expected.
4. Consider Your Budget:
Since you are building your custom charm bracelet, it is important to prepare a budget in advance so that you do not have to think while exploring the charms and chains. The beauty of a custom charm bracelet lies in its "work in progress" scene. This "in progress" approach provides maximum flexibility to your budget.
5. Extra Details:
The last step towards your charm bracelet is give a final and personalized touch to your bracelets. Place all the charms in a specific order so that it could look in the right way. Also, try to place some dividers and stoppers to make your charm bracelet stand out even more.
The ultimate beauty of your custom charm bracelet lies in your reputation and personality. There are so many things you can do and add on your bracelets that can end up with something beautiful and meaningful!