Though hair shrinkage implies that the hair is strong and solid, it is essential to stretch the hair. Most of the people often ignore the importance of stretching the hair. Stretching the hair through African hair stretching methods enables an individual to get rid of knots and tough curls. It also enables one to eliminate the dryness present and adds a good texture to the hair.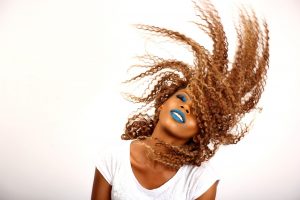 Stretching hair provides an aesthetic benefit of preparing the hair for different hairstyles. Simple and easy heat-free techniques have been invented. Presented here are the heat-free methods of hair stretching.
Banding method.
Banding the hair has been the most effective way to stretch the hair. This method stands as the top heat-free method of hair stretching. This method is applicable for wet or damp, and freshly washed hair. The method involves the sectioning of the hair into small sections. Tie each section with a band and leave them untouched. You may keep the bands for a complete day as per your comfort. Make sure that the bands are not too tight.
African threading method.
African threading method is one of the best heat-free African hair stretching methods. It is both result-oriented and protective. The method is applicable for both damp and dry hair. Moisturizer is to be used for dry hair. Section the hair and wrap them with a thick thread. Start from the top and safeguard the thread when you reach the extreme bottom. Threading can be made stylish by making creative and innovative sections. Leave them as such for a whole day. Undo the knots and you find your hair straight, glossy, and silky.
Hair curler method.
The use of curl formers to stretch the hair is one of the best heat-free methods known. This method applies to all kinds of hair and can be done easily. The method involves the use of an equipment names curl formers with which curls are produced to stretch the hair. To guarantee you have the best involvement in the Curl formers, it is significant that you detangle your hair first. This will make the Curl former coast over your twists significantly more easily, and further helps in prolonging your twists for best outcomes.
Pineapple method.
The pineapple method suits best for people with long hair. The pineapple is nothing but a loose ponytail made on the top of the head. The method helps in the prevention of frizzle, flat curls, and knots. Gather the hair and put it at the front side of your head. Tie it with a ponytail holder. Make sure it is loose to prevent hair breakage while untying it. Leave it as such.
Conclusion:
Many other proven African hair stretching methods do exist for the hair stretching purposes. Hair stretching not only allows to prevent knots and curls but also helps in making detangling session easy. Follow the method that suits your hair in the best possible way.